Easy Step by Step Guide
1. Register
2. Once you are completely registered go to our Consignor Menu and Bensalem Consignor page. Click Consignor Log in and type your Consignor Number and Password to gain access to online tasks.
3. Select your merchandice to sell
4. Click "Work with My Consigned Items" and begin entering your items:
select category & size
Enter a description
Enter price: Price items ONLY in $1.00 increments starting at $1.00. Price to sell!!!! As a general rule you will want to price items at about 1/4 to 1/3 of thier retail price. With name brand or boutique brand items sold at the higher end. Even the newest items should not be priced at more than 1/2 the original retail price. The one exception to this rule would be indoor/outdoor toys (kitchens, playhouses, etc.). These types of toys are in higher demand thus you can expect between 1/3 to 1/2 of the original retail price. After determining a price, ask yourself, "Would I pay $____ for this?"
Select discount ONLY if the item will be discounted during the 50% off sale
Select donate ONLY if you want the items donated if it does not sell
Click "submit item" to save your info into the online system.
5. Print tags:
*The quality of your tags directly effects your sales. Please read on to ensure successful scanning of your tags:
You

MUST

use

WHITE

cardstock (60-67 LB) and black ink.

Clean your print heads.

Align your print cartridges especially when changing ink cartridges.

Do NOT print too dark on on "high quality" settings. Print on the "Normal" settings only!

DO NOT use designer card stock (too fiberous) or slick surface cardstock.

Select one of the "Print Tags" options, and be sure to turn off any popup blocker you may have running.

When you generate tags they pop up in a new window.

If your tags are smeared, please reprint since they will not scan and will

NOT

be accepted at the sale.

If you change

ANY

information on your tags after printing a tag, you

MUST

reprint the tag.

Tags may

NOT

have handwritten changes.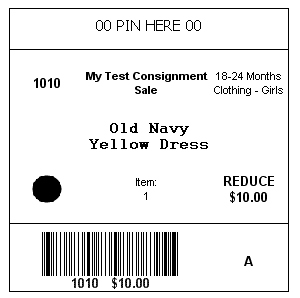 Information on the tag (top left to bottom right): consignor #, sale name, size, category, description, donate indicator, item id, discount indicator (REDUCE), price, barcode
BLACK DOT means donate. "REDUCE" means 1/2 off on discount day
6. Cut & attach tags to your merchandise.
** DO NOT TAPE OVER BARCODES**
7. Don't forget to schedule your drop-off(Drop off schedule link found on respective Consignor Page for each event).
8. Pick up your pre-sale pass (1 pass/Consignor or 2 passes/Volunteer) at your scheduled drop-off...see you there!!